Sapphire Lux Firming Serum
10% off for all your refills
Easily modify frequency & quantity
Unlike traditional moisturizers, Sapphire Lux Firming Serum is specifically designed to provide targeted benefits without the added moisturizing component. This concentrated formula delivers a potent blend of active ingredients that work synergistically to tighten and firm the skin, reducing the appearance of fine lines and wrinkles.
Cleanse face and pat dry. Apply a pea-sized amount of serum and gently massage into the skin until fully absorbed. If any tint of blue remains, the cream has not been fully massaged into the skin. Allow serum to dry for at least 10-15 seconds. Best used on the face, neck, and upper chest. For best results, follow with Sapphire Lux Cream.
Two powerful ingredients
GHK-Cu and Arginine
A smaller H3 can go here
GHK-Cu, a natural peptide, boosts collagen synthesis, enhancing skin elasticity, and reducing wrinkles. Its antioxidants protect from oxidative stress, promoting a radiant complexion and calming irritation.
Arginine, an amino acid, shields skin from stressors, heals damage, and strengthens the barrier. As a moisturizing factor, it retains moisture, firms the skin, and reduces signs of aging.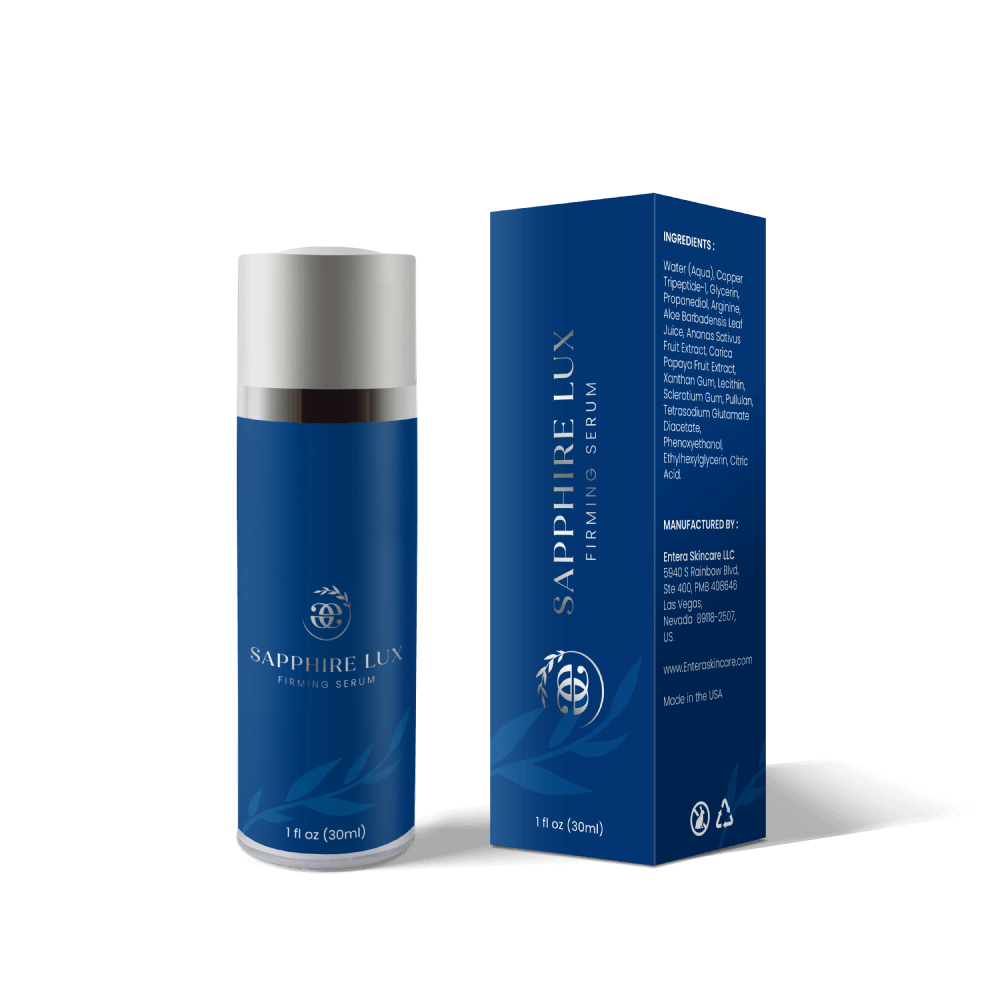 Full Description & Benefits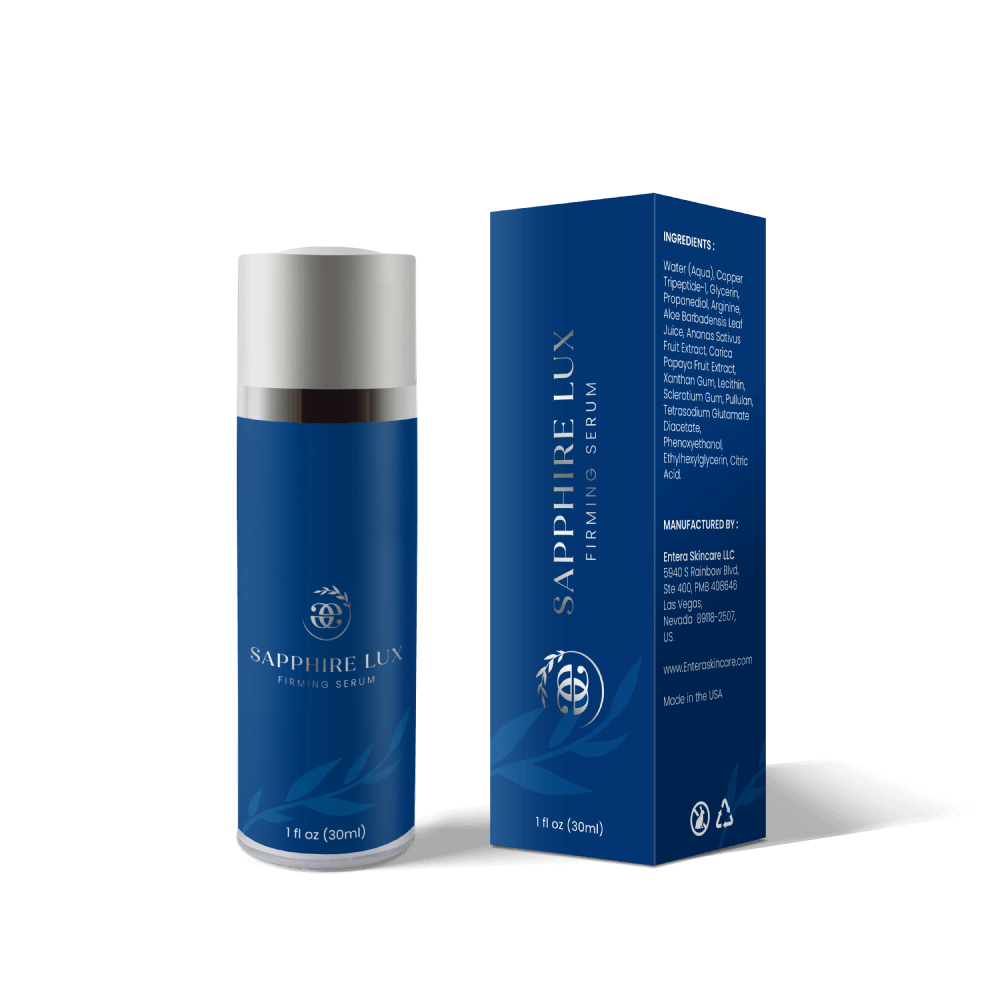 Say goodbye to sagging skin and hello to a more lifted and toned complexion. Our serum penetrates deep into the skin, stimulating collagen production and improving elasticity. With regular use, you'll notice a visible improvement in the firmness and tightness of your skin, restoring its youthful resilience. But that's not all - Sapphire Lux Firming Serum goes beyond just firming. It acts as a powerful anti-inflammatory, soothing irritated skin and reducing redness. Experience the calming effects as it restores balance and harmony to your complexion, leaving it looking calm, refreshed, and revitalized. The extraordinary efficacy of Sapphire Lux Firming Serum is primarily attributed to its two key ingredients: GHK-Cu and Arginine. GHK-Cu, a naturally occurring peptide, plays an integral role in skin rejuvenation and wound healing. Its anti-aging potential lies in its remarkable ability to stimulate collagen synthesis, significantly enhancing skin elasticity and reducing the appearance of fine lines and wrinkles. Its antioxidant properties further safeguard your skin from oxidative stress, promoting a youthful, radiant complexion. GHK-Cu, known for its anti-inflammatory properties, also helps to calm skin irritation and redness, nurturing your skin back to a harmonious, balanced state. The second hero ingredient, Arginine, is a powerhouse of skin-nourishing benefits. Arginine, an amino acid naturally produced by the body, possesses potent antioxidant capabilities, shielding your skin from harmful environmental stressors and preventing premature aging. Its soothing properties accelerate the healing of visible skin damage, and strengthen the skin's barrier function, adding a robust defense against external aggressors. As a natural moisturizing factor, Arginine not only retains moisture within the skin, but also amplifies the hydrating effects of other moisturizing ingredients, keeping your skin plump and smooth. Lastly, it supports the stimulation of collagen production, enhancing your skin's firmness and texture while reducing signs of aging. The unique combination of GHK-Cu and Arginine in our Sapphire Lux Firming Serum, coupled with our advanced formulation, sets this product apart in the skincare industry. By working in synergy, these ingredients target multiple signs of aging, delivering a firm, elastic, and rejuvenated complexion that radiates health and vitality.
Sapphire Lux Firming Serum

Reviews